Your Northwest Indiana photo booth will stand out from the crowd. You can customize it with props, photo strip styles and drapery colors of your choice. Impress your guests with a momento of your magical night.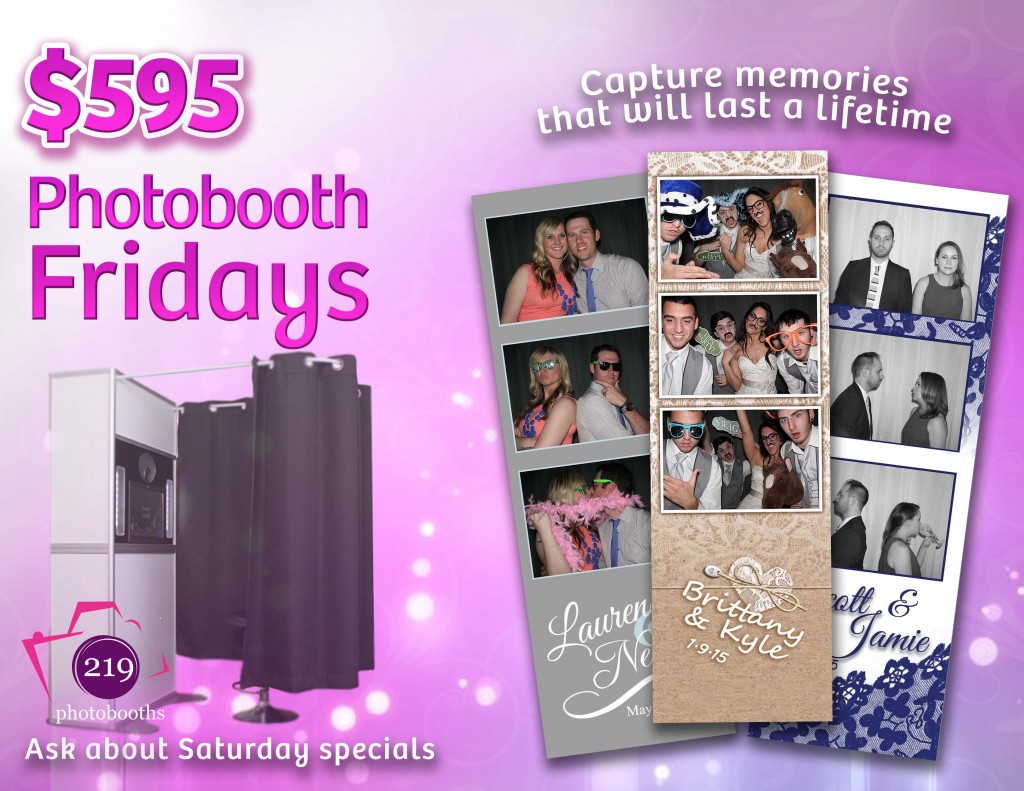 Here's what you need to know about 219 Photobooths!
You can pick out some props that fit your event, personality, theme, and colors. We've done everything from Mickey ears for a Disney themed wedding to cowboy hats for a rustic barn wedding. You can also bring your own. We suggest asking friends for props or shopping at thrift shops and party stores.
Your photo booth will not be an eye sore at your event. The backdrop and surrounding drapery colors will be coordinated to fit your event. The backdrop color will also match the background design of your photo strip.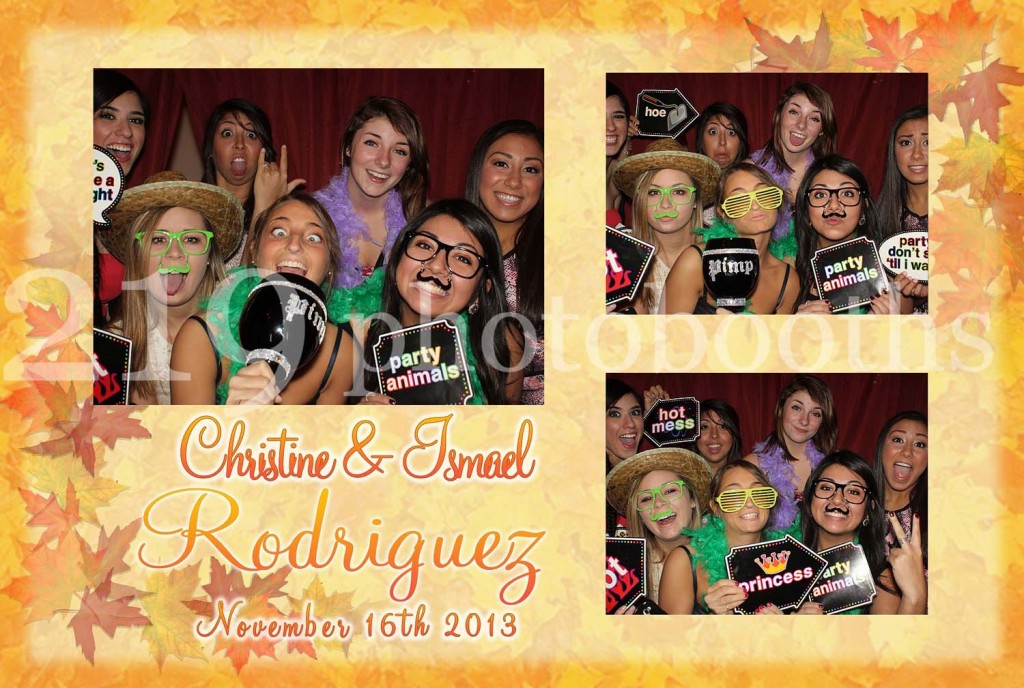 Possibilities are endless when creating a background design for your event. It may incorporate your theme, colors, favorite sports team, names, etc. We can do anything from funky zebra stripes for a Sweet 16 party to classy backdrops for a wedding.
Remember photos are something each guest will get to keep and cherish forever.
Sick of trying to cram everyone into a small photo booth? Your Northwest Indiana photo booth can be customized to hold anywhere from 2 to 10 people comfortably. We've even managed to fit 16 in one picture. Can your crowd beat that?
Another option would be to have your booth open or closed off for viewing. Open booths allow for guests to see the faces and poses you are making. Closed booths provide more privacy for your guests and people tend to get crazier =)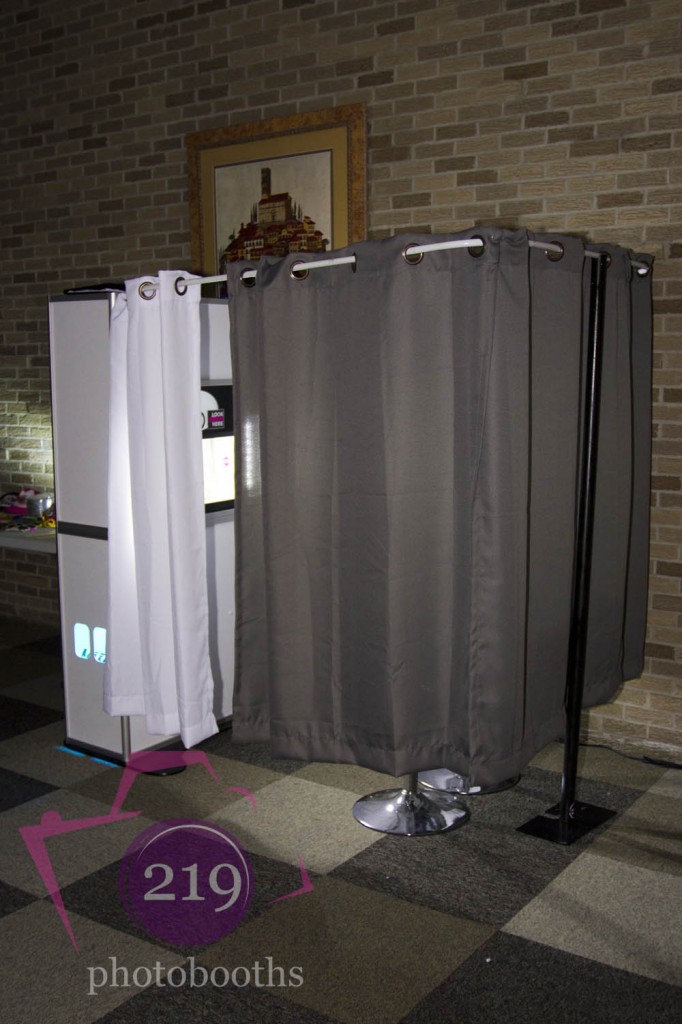 Are your parents begging you to have a photographer just to take table and group shots?  A bench or stools makes for some nice couple and group shots and allows two levels of people. Standing provides more room for larger groups and better full body pictures. All of your guests, including your parents, will have access to the photos and can print them in 4-by-6 format for a more formal look. You won't have to waste time or your photographer's valuable time walking from table to table taking photos.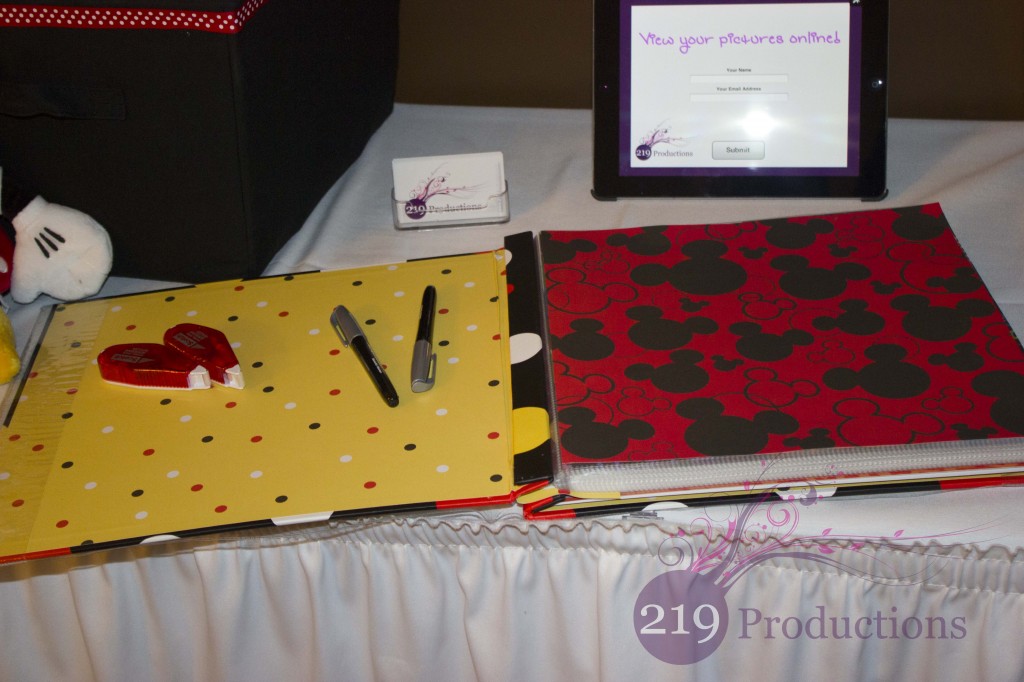 You can pick out your memory book. You can find one to match your event at stores like Hobby Lobby, Jo Anne Fabrics, or Micheal's. It is not only the book, it is the pages and the writing utensils you choose to use. Your photographer may also have a book that fits with their books.
Every booth comes with a friendly and properly dressed attendant. They will run the booth smoothly and get as many guests through as possible, printing reprints, making sure props are organized and readily available, and helping to assist guests with their prints and the memory book.
Unlimited prints ensure every one of your guests gets a photo if they want. Your photos are hosted online also allowing people to download, print, use on Facebook and more. If a guest would like an extra photo strip after the event, feel free to contact us and we can assist them.
Like what you see? Why not contact us to find out more – CLICK HERE!!!